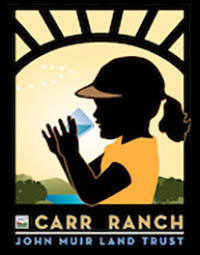 A pristine 604-acres adjacent to Lamorinda, Carr Ranch is now permanently protected watershed, an essential addition to 15,000 acres of wildlife habitat, and a beautiful destination for the public to enjoy. Once owned for over 100 years by the Carr family, the property exemplifies the cultural legacy of California ranches and the conservation-minded families who have cared for them. An outpouring of donations from individuals, foundations, agencies and corporations achieved the $7 million goal needed to complete JMLT's Campaign to Save Carr Ranch in November, 2016. Today, visitors marvel at beautiful ridgelines, unique rock formations, gorgeous valleys and sweeping views of the eastern Bay Area, the nearby delta, and surrounding hills.
Carr Ranch is home to an exceptional diversity of foliage including coastal live oak, riparian woodlands, coastal scrub and annual grasslands. Nearly all of the property is critical habitat for the threatened Alameda Whipsnake. Likewise, Buckhorn Creek and numerous ponds on the property provide breeding and foraging habitat for the endangered California red-legged frog. Adjacent to Las Trampas Regional Wilderness, the ranch is home to golden eagle, mountain lion, American badger, western pond turtle and many species essential to the region's thriving ecosystem.
Clean Water
Creeks and streams on the ranch drain into the Upper San Leandro Reservoir, a vital source of clean drinking water for tens of thousands of East Bay families. JMLT partnered with East Bay Municipal Utility District (EBMUD) to protect the property in perpetuity. Holding title, EBMUD's ongoing role is to preserve the watershed on the property, protect wildlife habitat, maintain open spaces and natural scenery, and preserve historical ranching heritage. JMLT manages permanent public access to Carr Ranch for low-impact recreation such as hiking, wildlife viewing, dog walking and equestrian activities.
Cherished Legacy
As population growth in the East Bay continues, providing public access to natural recreational areas has never been more important, and Carr Ranch will be cherished for generations to come. As a reliable source of drinking water in an era of periodic drought, as a refuge for the region's diverse wildlife, as a vital addition to adjacent protected lands, and as an unparalleled haven for outdoor recreation for nearby communities, Carr Ranch is one of those rare places that checks every box on the conservation priority list.
Getting to Carr Ranch
By Smartphone: This address takes you to Rancho Laguna Park: 2101 Camino Pablo, Moraga, CA 94556
From downtown Moraga: Drive south on Canyon Road and turn left on Camino Pablo. Take Camino Pablo about 1.7 miles to Rancho Laguna Park.
At Rancho Laguna Park: The EBMUD trailhead is at the fence behind and to the left of the play area. Follow the signs for Rocky Ridge Trail and Carr Ranch Loop Trail. EBMUD trail permit required and EBMUD rules apply.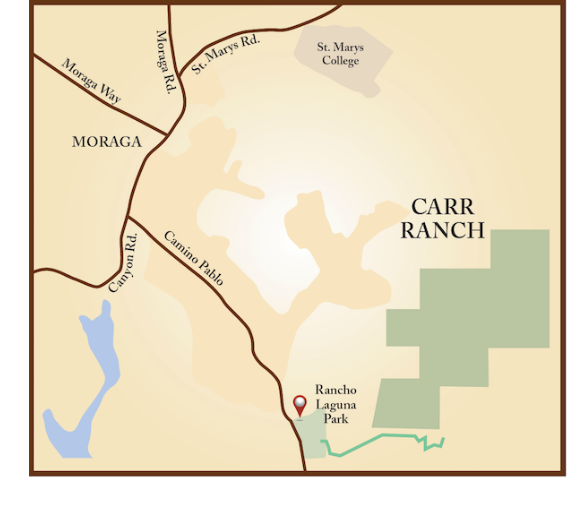 News about Carr Ranch
April 21, 2017
Martinez Tribune
November 22, 2016
Press Release