Explore Our Properties
John Muir Land Trust acquires land so that you can enjoy it. The properties under our care offer miles of multi-use trails for casual exercise, strenuous hiking, wildlife viewing, dog walking, cycling, and horseback riding. From soaring ridgelines to quiet valleys, you'll experience the East Bay's diverse ecosystems. Awaiting you are countless excursions to oak woodlands, wide open grasslands, trickling creeks and streams, saltwater tidal marshes, and delightful meadows of seasonal wildflowers.
Whatever you have time and energy for, there is a place for you. Remote Carr Ranch and Fernandez Ranch take you far from the hustle and bustle of daily life — here you can be deliberately and delightfully "lost" in East Bay wilderness. Nearby Batwing, Bodfish Preserve, and Stonehurst offer nature at your doorstep — quiet spots in lovely woods tucked in and among suburban neighborhoods. From the hilltops of Painted Rock, Acalanes Ridge and the heights along Franklin Ridge you'll experience sweeping views of Mount Diablo, Suisun Bay, and the rolling hills and valleys that epitomize the East Bay's scenic beauty. The pathways of soon-to-open Pacheco Marsh will lead you through a thriving saltwater marsh ecosystem right up to the Bay shoreline itself.
At the heart of our mission is protecting land for public use and enjoyment. Time to get outside!
Find trail maps and information for visiting.
Dogs are welcome throughout JMLT lands and can be off-leash on trails as long as they are under voice control at all times. For more great dog-friendly destinations throughout the Bay Area and California visit DogTrekker.com
JMLT Properties
The following properties are open from dawn to dusk:
Vizzit Mobile App
The Vizzit mobile app brings JMLT properties to life as you take one of our guided tours to discover the lesser-known aspects of these fascinating landscapes. Download to your smartphone, select a tour, and as you stroll along you'll be notified automatically by GPS when key points of interest have special stories. Tours are available in a variety of languages.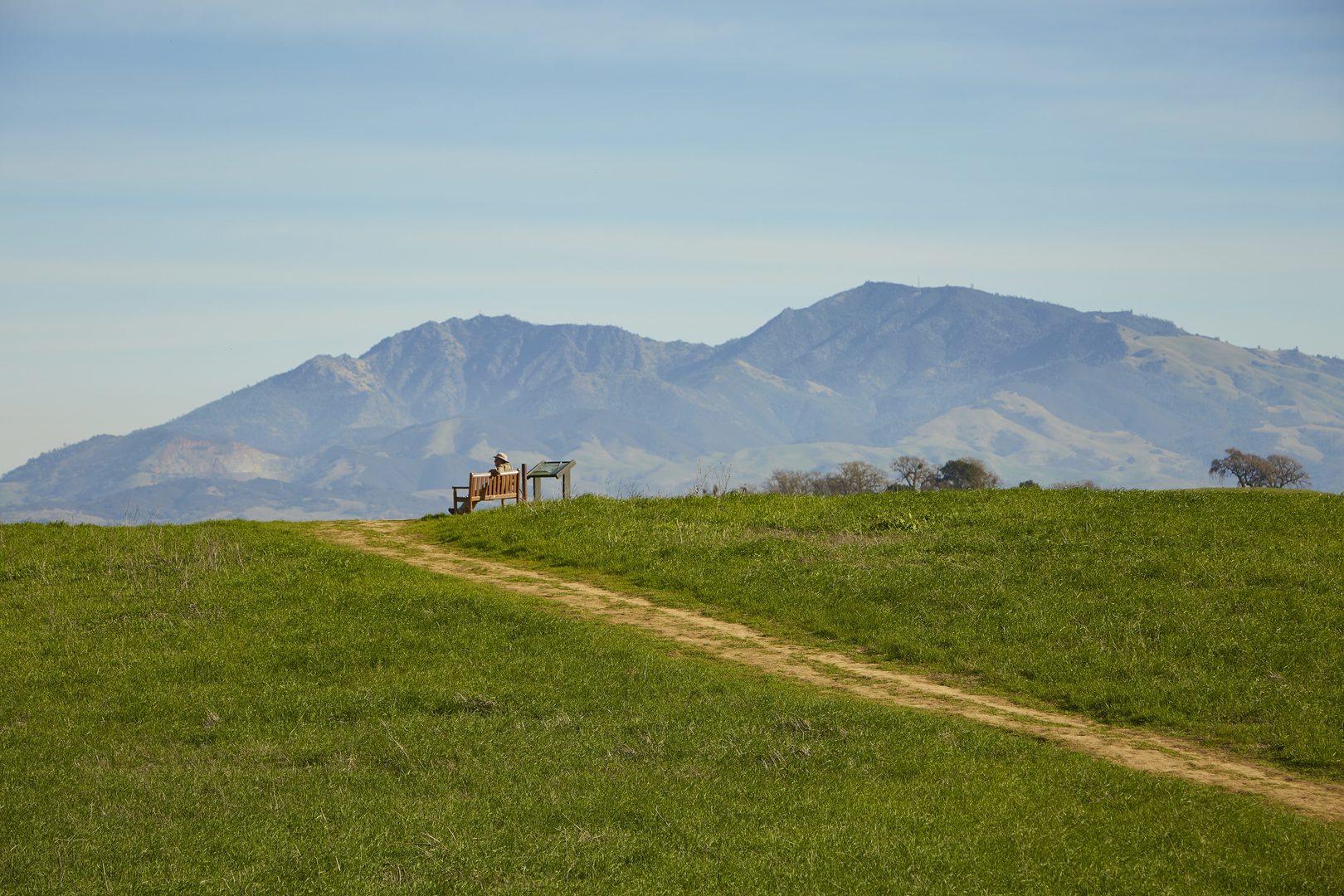 The Wonder of Mt. Wanda
Mount Wanda is a well-articulated concert of nature for hiking and unwinding. During this 90-minute tour, you'll learn about the plants and animals the landscape supports. This tour was sponsored by Tesoro Corporation and developed in collaboration with the National Parks Service by JMLT, the Contra Costa County Office of Education STEAM program and teachers from the Antioch, Martinez and San Ramon Valley School Districts.

A Walk on the Wild Side
This engaging guided tour offers scenic views through grasslands and oak woodlands of Fernandez Ranch that support over 60 types of mammals and 110 species of birds.

A Stroll Back in Time
Learn how Fernandez Ranch has provided food and shelter for the Ohlone peoples through the building of the Transcontinental Railroad, in this interesting tour.

Pacing Planets
We have scaled the distances of the planets to the 3-mile trail on Fernandez Ranch so you can get a real sense of our vast solar system. Join us as we review basic facts about astronomy and the planets.

Bringing Back the Land
In 2010, JMLT completed a 5-year, $3.5 million restoration project to improve Fernandez Ranch. Protecting this dynamic landscape was — and still is — like solving a never-ending mystery. This unique tour explains what we've done to protect resources, improve habitat and hydrology, and create visitor access.
Vizzit makes environmental education fun, for people of all ages. These JMLT Tours can also be viewed on the app's website. Please stay tuned as we announce Vizzit mobile tours for other JMLT properties in the future!