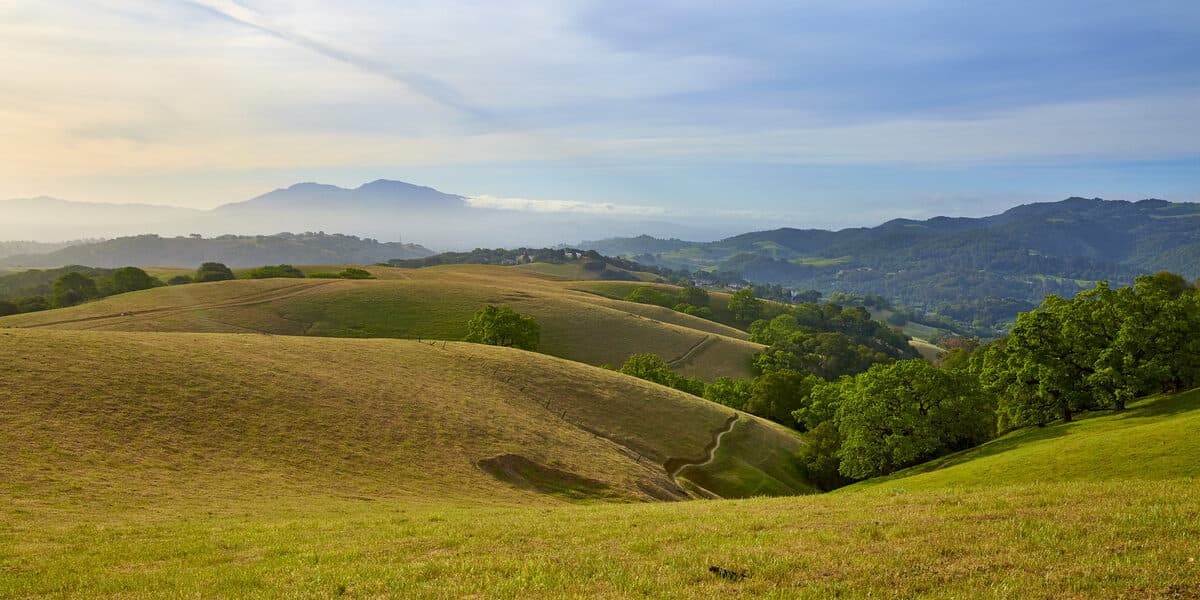 Almond Ranch is a one-of-a-kind place where history and nature collide. Immerse yourself in the rich history of this East Bay treasure, where weathered barns and windmills tell stories of a bygone era. Explore the remnants of an old ranch, hike to stunning views, and send it on fun, swoopy single track. 
Explore the Old Ranch Site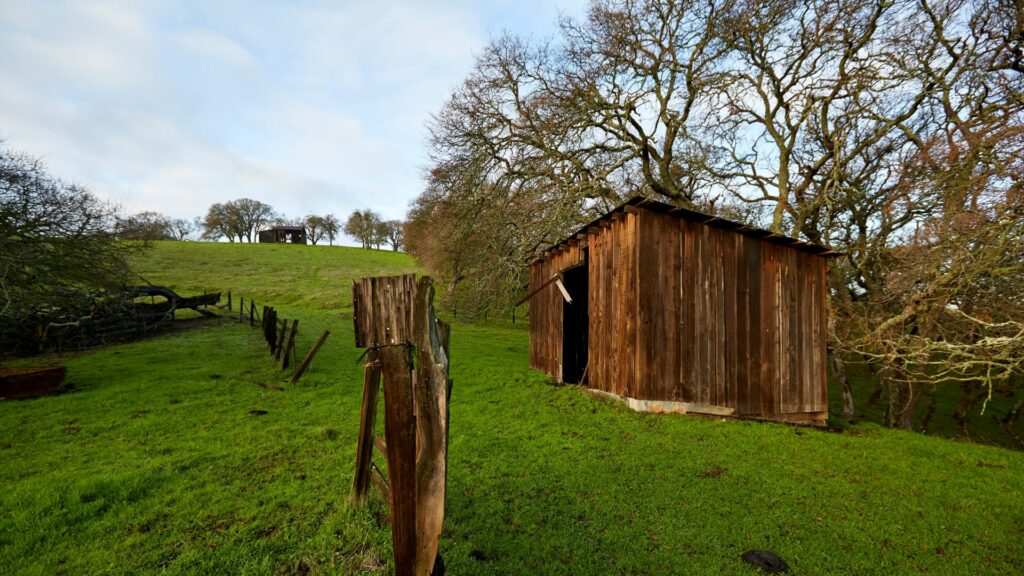 As you enter Almond Ranch via the Vaca Creek Trail in Stonehurst, you'll come across the remnants of the old ranch. Weathered barns and antique farming tools scattered around the area provide a glimpse into the past. It's a fun challenge for both kids and adults to try and decipher the purpose of these historical artifacts. Almond Ranch has a rich history, with the Brackman family farming red oat hay in the 1860s and Nellie Brackman, a friend of John Muir, giving birth to her son Herbert on the property. Today, the beautifully weathered boards, crafted by carpenter Vernon Almond, serve as a reminder of a simpler time when land-based livelihoods were common.
The Windmill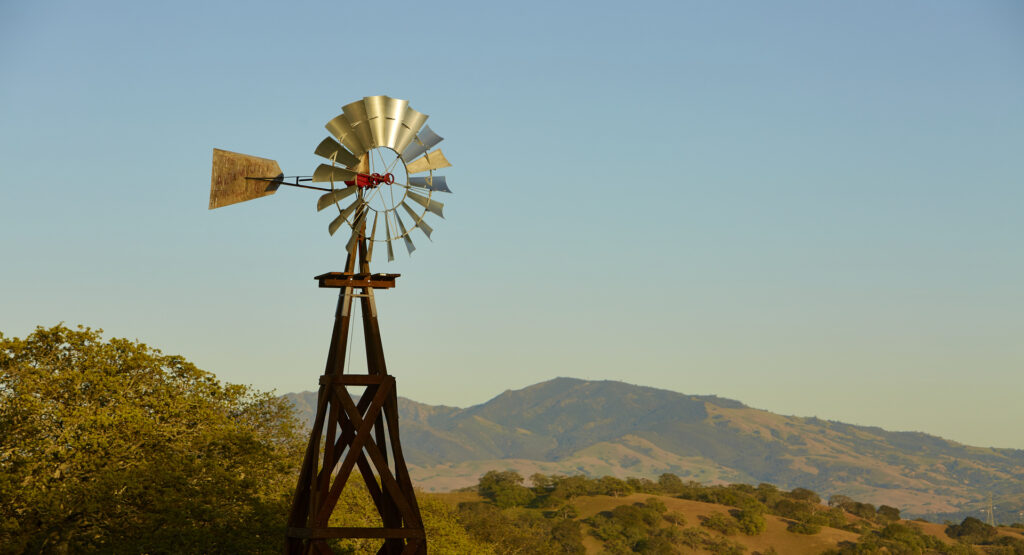 Once a common sight in the East Bay a hundred years ago, these workhorses from the region's ranching and agricultural heyday are scarce nowadays. Just 100 yards from the Mount Wanda gate, the old windmill at Almond Ranch is easy to spot. The original windmill pumped water up from a well for thirsty cattle. Today, it spins easily in the slightest breeze, a fond reminder of the area's ranching heritage. If this one seems to be in better shape than most, that is thanks to JMLT volunteer and retired contractor and civil engineer Steve Harvey, ranger Glen and a team who restored it this spring.
Almond Trail Whoop-Dee-Doos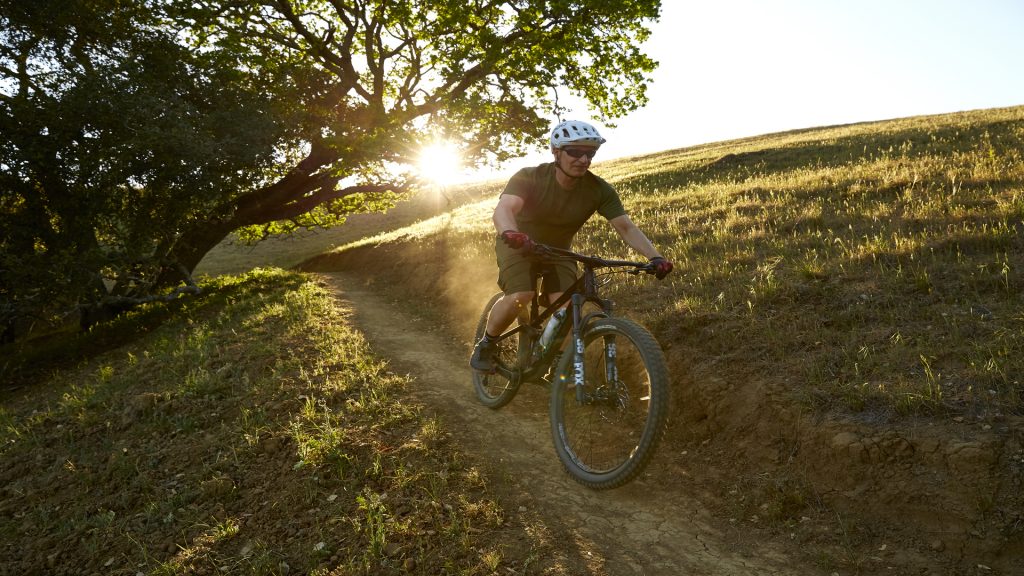 The nearly mile-long single-track section of Almond Trail was built by JMLT to connect Almond Ranch to the adjoining Sky Ranch property. There are short steep sections that make for a challenging mountain bike ride going up. However, going down on your bike is a thrill as you ride up-and-down through a series of grade reversals—a trail-building technique that drains water during heavy rains. This new section of trail fills in what was once a gap in the Bay Area Ridge Trail. 
The Paul Craig Bench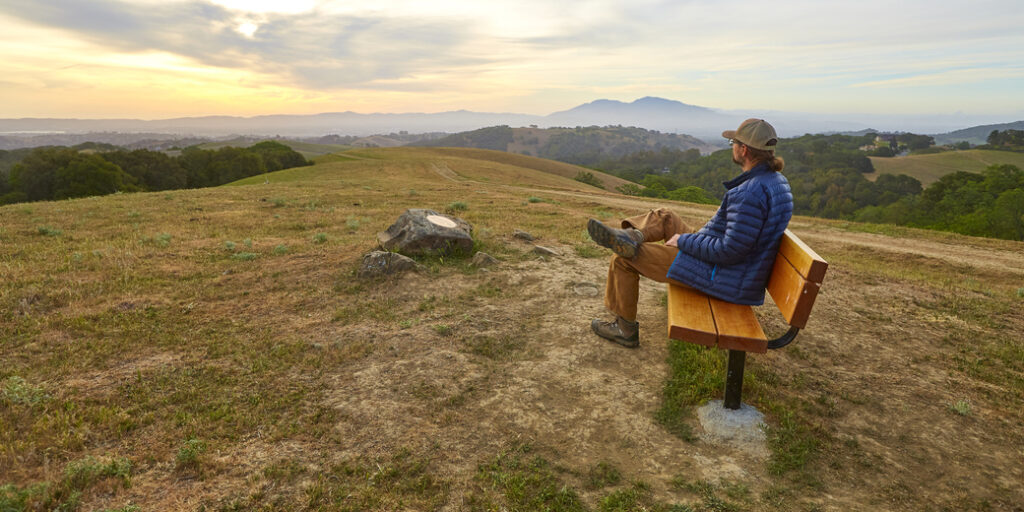 After a climb up the ridge, take a moment to relax and reflect at the Paul Craig Bench. Located off the Almond Trail, this spot offers breathtaking views of Martinez and the Bay Delta region. The bench and plaque commemorate Paul Craig, a beloved member of the Martinez community and a long-time JMLT volunteer and board member. Paul's generous legacy gift continues to support JMLT's mission every day.
Hiking Recommendation
Try this moderately challenging 4.5-mile out-and-back route great for hiking, mountain biking, and running. The hike traverses the summit of Mount Wanda and John Muir National Historic Site and onto Almond Ranch. The trails are open year-round and  beautiful to visit anytime. Dogs are welcome, but must be on leash in picnic areas.
All photos: Adam Weidenbach