Notice: Rains are coming to the hills of Fernandez Ranch. While we welcome the badly needed rains, bicycle and equestrian use of muddy trails can cause significant damage to the trails. Please allow the trails to dry out a few days before taking your bike or horse out to Fernandez Ranch. Thank you!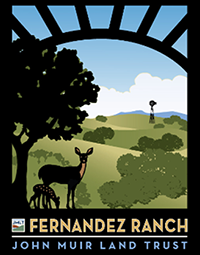 The historic property of Bernardo and Carlotta Fernandez had remained within the family for nearly 150 years when JMLT approached the Fernandez family to preserve what remained of the original 7,000-acre ranch. The first acquisition was made in 2005. Funds were then raised for a $3.5 million restoration project that began in 2008. Two years later, the first 702 acres opened to the public. An important adjacent 483-acre property of intact habitat, formerly known as Franklin Canyon, was acquired and added in 2010 after a widespread grassroots effort by the community to save the property from development.
Along the popular Windmill Trail, hikers pass by a mid-20th century dairy farm, an old windmill, and Fern Creek. The trail ascends to a segment of the Bay Area Ridge Trail and then into the Pinole Valley Watershed. When taking the ADA-accessible Black Phoebe Trail you'll find picnic tables and benches at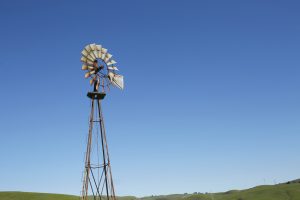 the edge of South Meadow. Black phoebes feed along Rodeo Creek. If you are lucky, you will see one of these black songbirds with white bellies take flight to catch a passing insect on the wing. Look for western fence lizards, California meadow voles, coyotes, and other species that prefer open grasslands.
Along the Woodrat Trail you'll see large nests, often several feet tall, made of twigs and branches. Here San Francisco dusky-footed woodrats store nuts, leaves, food, and man-made objects, earning the common name "pack rats." The trail travels through a dense bay forest as it climbs to the ridge separating the Pinole Creek and Rodeo Creek watersheds. Keep an eye out for California newts, and look for many nests on the ground and low in the trees.
Breathtaking views await at the top of the Whipsnake Trail where kids can have a giggle rambling the hills and meadows looking for bugs, beetles and animal tracks. You may even catch a glimpse of a rare animal or two, including the endangered Alameda whipsnake, the California red-legged frog, western pond turtle, and perhaps an American badger. Keen eyes are required to see the whipsnake — despite the two bright yellow stripes on its back, it is shy and hard to spot.
Oak-studded slopes and freshwater wetlands give way to Rodeo Creek, whose banks are cloaked in Coast live oak. JMLT is the permanent owner and steward of more than one-fifth of the land within the Rodeo Creek watershed. Riparian scrub along the creek includes arroyo willow, thickets of California blackberry and short-spiked hedge nettle. The vegetation serves as a movement corridor for aquatic and terrestrial species, providing secure cover along its length.
At dawn and dusk, Fernandez Ranch comes alive. Deer emerge from the woods and coyotes howl to one another. In the springtime, poppies, lupine and the threatened Mount Diablo sunflower — that only grows in Contra Costa County — blanket the ranch in vibrant color. The area is especially well suited for hiking, with paths that provide important connectors to the 550-mile Bay Area Ridge Trail and the 500-mile San Francisco Bay Trail. There is a staging area for horse trailers. Dogs can be off-leash as long as they are under control at all times.
GETTING TO FERNANDEZ RANCH
By Smartphone: This address takes you to the Fernandez Ranch entrance and parking lot: 1081 Christie Road, Martinez, CA 94553
From I-80: Head east on Highway 4. Take the first exit after the Franklin Canyon Golf Course onto Christie Road. Use caution; Christie Road is a minor exit off of Highway 4. Fernandez Ranch is .7 miles down Christie Road on your right.
From Martinez: Head west on Highway 4. Take the Franklin Canyon Exit. Turn left and merge onto Highway 4 eastbound. Take the first exit after the Franklin Canyon Golf Course onto Christie Road. Use caution; Christie Road is a minor exit off of Highway 4. Fernandez Ranch is .7 miles down Christie Road on your right.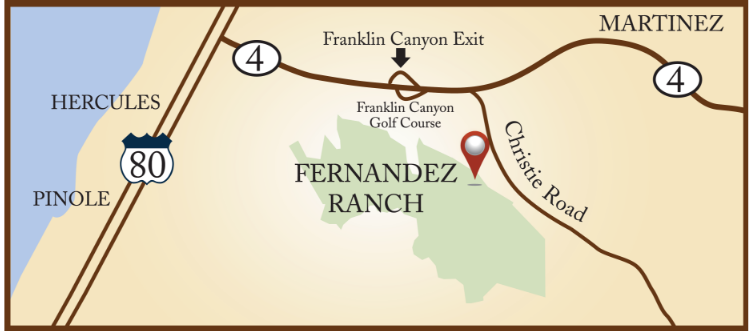 News about Fernandez Ranch