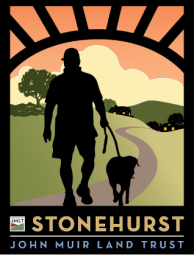 In the mid-1980's a parcel of 150 acres of pastoral land in Alhambra Valley was at risk of being subdivided and developed. Neighbors decided they would form an organization to protect these beloved woods. The Martinez Regional Land Trust – eventually to become the John Muir Land Trust – was incorporated in 1989 to protect this property with a conservation easement. At the same moment in time, three decades ago, far-sighted residents of other Bay Area counties were gathering to do the same, creating a land conservation movement that is in full force today.
The effort to protect the property we now call Stonehurst became the catalyst that created JMLT. Contra Costa County had originally granted the developer the right to build houses on 5-acre lots on the property, but he instead decided to build on 1.5-acre lots, creating 150 acres of open space with the goal of giving development rights back to the county. However, the county voided a scenic easement for the property, thus allowing the landowner to build there. JMLT's soon-to-be founders were not happy with this decision, and set out to form a land protection organization that could hold the development rights in perpetuity. In 1991, Stonehurst's developer transferred the rights to the 150 acres of open space to the fledgling land trust, making it our first conservation project.
Today this beautiful area is open to Stonehurst residents and neighbors, who enjoy walking the open space. The land will always be protected, providing recreational opportunities for families and habitat for native wildlife.
HIKING IN STONEHURST
The Stonehurst property is located off Alhambra Valley Road outside Martinez. The Vaca Creek Trail runs about 3/4 mile. Mostly level and well shaded, the trail is open to the public and managed by the East Bay Regional Park District. Enjoy your hike!
GETTING TO STONEHURST
From Highway 4: Take the Alhambra Avenue/Martinez exit. Drive south on Alhambra Avenue for about .5 miles. Make a right onto Alhambra Valley Road and continue for 1.3 miles. Take a right to stay on Alhambra Valley Road for .8 miles. Turn right onto Vaca Creek Road, and the hiking trail entrance is 100 yards ahead on the left. It's a little confusing, because there is no clear parking area. Park along the side of the road. The Vaca Creek Trail starts just past the end of the fence along the road.