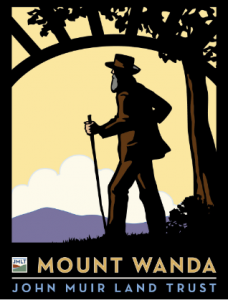 When John Muir explored the terrain around his Martinez home, he often took daughters Wanda and Helen with him. About one of their Contra Costa strolls he wrote: "Another lovely day, mostly solid sunshine. Took a fine fragrant walk… the babies delighted." This beautiful land, named after his daughter, is now a public treasure.
The 325-acre property, once part of Muir's landholdings, was not included when the U.S. National Park Service established the John Muir National Historic Site in 1964. The NPS had planned to buy the land from local rancher Gordon Strain in 1991, but the deal came to the brink of collapse. JMLT stepped in to save the property by pledging the funds required to complete the purchase.
Now, you can take your own "fine fragrant walk" on Mount Wanda. Plan to go for a full moon walk, seasonal wildflower walk or bird walk, each hosted by the National Park Service. Hike, bike, ride a horse or take your dog for a stroll through the property's oak woodland and grassy hills, dotted with native wildflowers such as California buttercup, shooting stars, woodland star, lupines and fiddlenecks.
Take the Mount Wanda trail and see views of the Carquinez Strait and surrounding hills. Coast live oak, blue oak and valley oak line the trail as it ascends the summit. Once at the top, Mount Diablo and the surrounding hills become visible. The more gradual John Muir Nature Trail provides views of Mount Diablo, the Carquinez Strait and Briones Park. On a clear day, you might also spot cows across the valley grazing in the sunshine.
JMLT has recently signed an agreement to purchase an additional 44-acre property adjacent to the southern border of Mount Wanda. This strategic acquisition will protect quality wildlife habitat that would otherwise have been developed as residential housing.
GETTING TO MOUNT WANDA
From I-80: Head east on Highway 4. Exit at Alhambra Avenue and turn right. Make a sharp right onto Franklin Canyon Road. Park in the lot at the intersection of Alhambra Avenue and Franklin Canyon Road.