Weekend Hike: Fabulous Fernandez

Weekend Hike: Wonderous Mount Wanda
April 11, 2023
Donor Spotlight: Rosanne Siino
June 12, 2023
Experience the fabulous Fernandez Ranch in Martinez, where green rolling hills adorned with majestic oak trees and vibrant wildflowers like poppies, lupine, and the rare Mount Diablo sunflower create a stunning landscape. This hidden gem offers a 6-mile hiking or biking adventure that combines the Windmill, Woodland, Franklin Ridge, Woodrat, Whipsnake, and Black Phoebe Trails.
Recommended Hike: Fernandez Ranch Loop with Paul's Peak trail
Length: 6.1 from parking lot
Time: 3–4 hrs
Difficulty: Moderate, approximately 900 feet of elevation gain
Dogs: Yes
Bikes: Yes
Trailhead address: 1081 Christie Rd, Martinez, CA 94553
Start at the Fernandez Ranch parking lot, where the Windmill Trail awaits. A gradual ascent will take you past an old dairy farm and a charming windmill. Turn right onto the Woodland Trail, where you'll meander through a lovely forested area with bay trees and oaks. The trail rises to an open, grassy plateau. Here you will turn left onto the Canyon Loop Trail.
Prepare to be wowed by the sweeping views that stretch in every direction, offering glimpses of green hills, Mount Tam, and San Pablo Bay. From here, continue westward to connect to the Franklin Ridge Trail where you'll encounter a quilt of wildflowers in the Spring along with a solo bench to sit, have a snack, and drink in the view.
At the Franklin Ridge Trail, you can turn right and continue on a few yards to reach Paul's Peak Trail (formerly Vista Trail), which climbs to a viewpoint with another bench to sit and ponder your life choices.
You'll wrap up your adventure by descending via the Woodrat Trail and Whipsnake Trail, passing through serene grasslands adorned by towering oaks, offering more breathtaking vistas along the way. A brief ascent will bring you to the Black Phoebe Trail and the Homestead Picnic Area.
In addition to lots of wildlife, you may also encounter cows on the trail. JMLT allows cattle grazing on many of its properties, and it's important for those who visit to practice safety and consideration of all. Here are some guidelines to follow: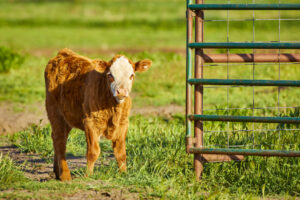 Keep dogs on leash: Dogs chasing cattle is dangerous for both the dog and the cows. Moreover, calves can die from the stress induced. Our properties are off-leash, but if your dog wanders, enjoys chasing, or is not under strict voice control please use a leash.
If you find a calf: Mother cows often leave their calves alone while they graze or seek water. If you see a calf alone, do not approach it. Attempts to "rescue" calves, although well-meaning, often result in their demise. 
We love hearing from you! Tag us on social media on your next adventure to a JMLT property.