Trail Details
Length: 8.3 miles from parking lot
Time: 3.5-4 hours
Difficulty: Strenuous, approximately 2,050 feet of elevation gain
Dogs: Yes, on a leash
Directions to Trailhead: Take Canyon Road south from Moraga. Take a left on Camino Pablo and take it all the way until you reach Rancho Laguna Park. Park in the parking lot just past Knoll Drive. 
>> DOWNLOAD CARR RANCH TRAILMAP
Carr Ranch is the result of a unique partnership with East Bay Municipal Utility District (EBMUD). This pristine 604- acre natural preserve south of Lamorinda provides habitat for native wildlife and endangered species, supplies clean water for thousands, and offers hikers miles of secluded trails and spectacular views of the entire Bay Area.
Depending on your pace and how often you pause to enjoy the incredible views, completing the 8-mile loop from Rancho Laguna Park takes about 3-4 hours. Be sure to bring along two full water bottles and some snacks. 
To start the hike, walk to the back of Rancho Laguna Park where you'll see an EBMUD gate (note: in order to access the Carr Ranch Loop Trail you'll need to take the EBMUD Rocky Ridge Trail for about 2 miles. EBMUD trail permit required and EBMUD rules apply.). You'll begin with a short hill climb and then turn right onto Rancho Laguna Trail. From here it's about .4 miles to the Rocky Ridge Trail sign.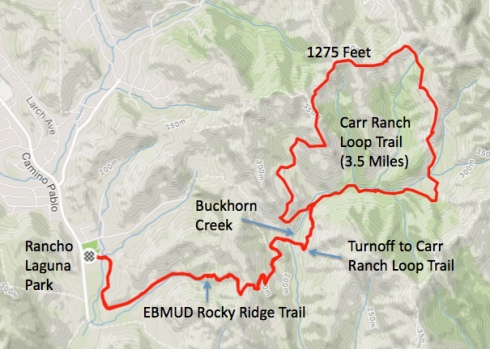 Rocky Ridge meanders along a creek and then ascends through a forest of live oak and bay laurel trees. Eventually you'll emerge onto a high meadow. Get ready for another climb to an elevation that approaches 1,100 feet. This ridgeline offers spectacular 360-degree views of the entire region—Carquinez Strait to the north and the San Francisco Bay to the west and southwest. 
Scaling down the other side you'll reach a shaded fire trail along Buckhorn Creek*, which drains into the Upper San Leandro Reservoir. It's easy to feel completely removed from it all here. If you're lucky,  you might spot a dusky-footed woodrat or two. Keep an eye out for these industrious rodent's nests of odd shapes and sizes along the trail. Soon you'll reach the marked turn off to the Carr Ranch Loop Trail. 
In no time you'll huffing your way up again to the ridge that surrounds the valley. At about 4.5 miles of hiking you'll reach the summit of 1300. Now's a good time to catch your breath and take in the incredible vistas or take a selfie. The Loop Trail continues straight for another 1.5 miles until you reach the junction where you started the loop. Return the same way that you came.
In addition to lots of wildlife, you may also encounter cows on the trail. JMLT allows cattle grazing on many of our properties, and it's important for those who visit to practice safety and consideration of all. Here are some guidelines to follow:
Keep Dogs on Leash: Dogs chasing cattle is dangerous for both the dog and the cows. Moreover, calves can die from the stress induced. Our properties are off-leash, but if your dog wanders, enjoys chasing, or is not under strict voice control please use a leas
If You Find a Calf: Mother cows often leave their calves alone while they graze or seek water. If you see a calf alone, do not approach it. Attempts to "rescue" calves, although well-meaning, often result in their demise. 
We've been so pleased to hear from those of you who have enjoyed a visit to Carr Ranch. Get out there now or wait for winter's green hillsides and flowing creeks. Tag us on social media to let us know what you think!  Find out what others are saying on AllTrails.
* In the late 1980's EBMUD proposed to build a new reservoir in the Buckhorn Creek Valley. The effort was thwarted by the public and shelved.