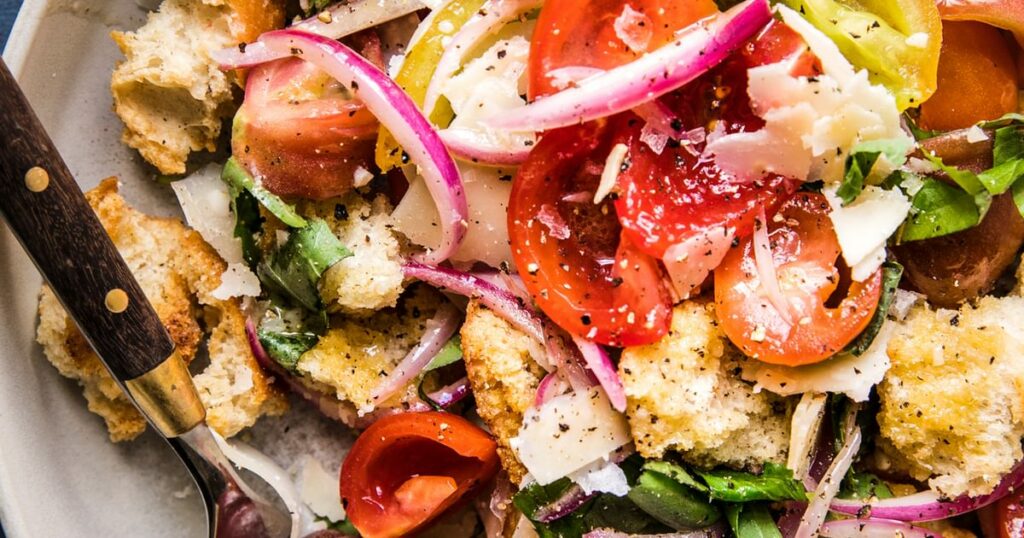 Tuscan-Style Tomato and Bread Salad
Panzanella is a traditional Italian bread salad that is perfect for a hot summer day. It's made with stale bread, tomatoes, cucumbers, onions, and basil, and tossed in a simple vinaigrette. The bread soaks up the juices from the tomatoes and vegetables, creating a delicious and refreshing salad.
The history of Panzanella dates back to the Middle Ages, when it was a peasant dish made with leftover bread and vegetables. The bread was soaked in water or vinegar to make it soft, and then mixed with tomatoes, onions, and herbs. Panzanella was a clever means to feed two birds with one scone: a way to use up stale bread and create a filling meal with very little ingredients.
The beauty of Panzanella lies in its simplicity and fresh, seasonal ingredients. Mix it up and make it your own by adding different types of vegetables, such such as carrots or zucchini. You can also play with a variety of herbs, such as oregano or mint.
Salad ingredients:
3 tablespoons good olive oil
½ loaf of a rustic Italian bread (think Ciabatta) cut into 1-inch cubes
1 teaspoon kosher salt
2 large, ripe tomatoes, cut into 1-inch cubes
1 hothouse cucumber, unpeeled, seeded, and sliced 1/2-inch thick
1 red bell pepper, seeded and cut into 1-inch cubes
1 yellow bell pepper, seeded and cut into 1-inch cubes
1/2 red onion, cut in 1/2 and thinly sliced
20 large basil leaves, coarsely chopped
3 tablespoons capers, drained
Parmesan shavings (optional)
Vinaigrette:
1 teaspoon finely minced garlic
1/2 teaspoon Dijon mustard
3 tablespoons red wine vinegar
1/2 cup good olive oil
Salt and pepper to taste
Simple Prep:
Heat the oil in a large sauté pan. Add the bread and salt; cook over low to medium heat, tossing frequently, for 10 minutes, or until nicely browned. Add more oil as needed.

In a large bowl, combine the diced tomatoes, cucumber, peppers, red onion, torn basil leaves, and capers (if using). Gently toss the mixture to combine the ingredients evenly.

In a separate small bowl, whisk together the the vinaigrette ingredients until well combined.

Add the stale bread pieces to the vegetable mixture and drizzle the vinaigrette over it. Gently toss everything together until the bread is coated with the dressing.

Let the Panzanella sit for about 30 minutes before serving. During this time, the flavors will meld together, and the bread will soak up the delicious dressing.

Just before serving, give the salad a final toss and garnish with a few fresh basil leaves.
* The best bread for this salad is a hearty loaf with a coarse, chewy center and a good crunchy crust that will allow it to sit in the dressing without falling apart and getting too soggy. Try Italian country bread or ciabatta, and if you remember, tear the bread up and allow it to sit uncovered for a few hours or overnight so that it will dry and harden.