$1,000 match will be donated in your honor when you inform JMLT of your legacy gift
John Muir Land Trust is committed to protecting open space for generations to come. We can only do this thanks to the generosity of our supporters, both today and in the future. One of the most impactful ways you can support JMLT is by including us in your long-range financial planning. A legacy gift through your estate can ensure that JMLT continues to preserve the most beautiful places in the East Bay for future generations to enjoy.
Today, members of our Board are inviting you to join them in securing the future of these lands through their Legacy Match Challenge. For every legacy disclosure JMLT receives, they will make a $1,000 gift to JMLT to honor the donor, up to $30,000.
How the Legacy Match Challenge Works
For every intention we receive, members of our Board will match it with a $1,000 gift, up to $30,000. This means that your legacy gift can have twice the impact, helping JMLT protect open space today and for generations to come!
STEP 1 » 
Name John Muir Land Trust in your will or trust, or as a beneficiary of your retirement, insurance, or other financial account. New commitments and upgraded previously established legacy plans qualify.
STEP 2 »
Fill out the Legacy Giving Intention form and email a copy to kathleen@jmlt.org. Alternatively, you may complete the online form below. 
STEP 3 »
Members of our Board of Directors have provided a matching gift pool and will make a gift of $1,000 right now to JMLT in your honor. It is just that easy to support JMLT today through your future legacy gift intention.
What Gifts Qualify:
Bequest from a will or trust ($, %, or remainder)
Beneficiary of life insurance, investment, 401(k), IRA, other retirement, and checking or savings accounts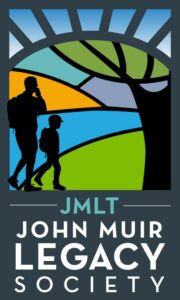 The Legacy Society is a group of supporters who have committed to including JMLT in their estate plans. Your gift will help us protect the East Bay hills for future generations to enjoy.
For a limited time, when you let us know about your legacy gift, $1,000 will be donated to JMLT in your honor.
This is a great way to make a lasting impact on the places you love. Contact us today to learn more about how you can join the Legacy Society.
Questions? Email Kathleen Stavis, Associate Director, Major and Legacy Giving, or call 925-293-4807.
online
Legacy Intention Form