"We need cow patties. Can you help?"
It was not the average inquiry we receive in the JMLT inbox, but then again, Wendy Markel is not your average supporter. The first thing that strikes you about Wendy is her energetic enthusiasm—whether expressed by wide smiles as she meets new acquaintances at a JMLT event, her boundless energy while exploring a new trail, or her "leave no stone unturned" approach to finding natural fuel for the Rossmoor Ceramics Studio fire pit.
Wendy first learned of land trusts when she and her husband leased a beautiful spot on Tomales Bay and she encountered the conservation work of the Marin Agricultural Land Trust. After a move to Rossmoor in Contra Costa County, she discovered JMLT and decided to attend our Gala at the John Muir National Historic Site a few years ago.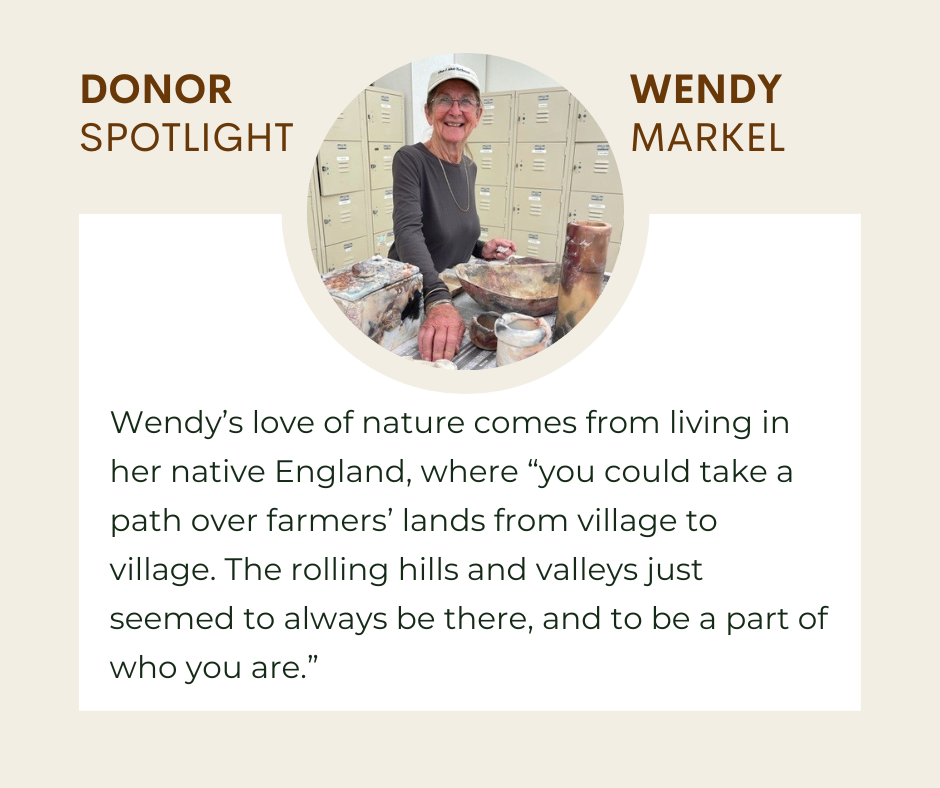 A member of the Rossmoor Trails Club, Wendy recently hiked with the group on Harvey Ranch. "It's not as dramatic a landscape, as say, the Arctic," she observes, having traveled this summer circumnavigating the archipelago of Svalbard by ship to a point near the North Pole. "But, we need beautiful everyday nature nearby. I'm worried by the endless concreting of natural places around us. The land needs to breathe for the health of people and other living things. Even places that seem 'useless' to some, are so useful!"
At this point you're surely wondering, "Could we?" Indeed, we could! Cows graze on a number of JMLT properties but not in places or in sufficient quantities to make the harvesting of 10 garbage bags of cow patties an easy task. So, we guided Wendy and her ceramics club fellows to cow-patty-rich Briones Regional Park where they found an ample supply of fuel. Wendy reports that the ceramic-making event was a huge success.