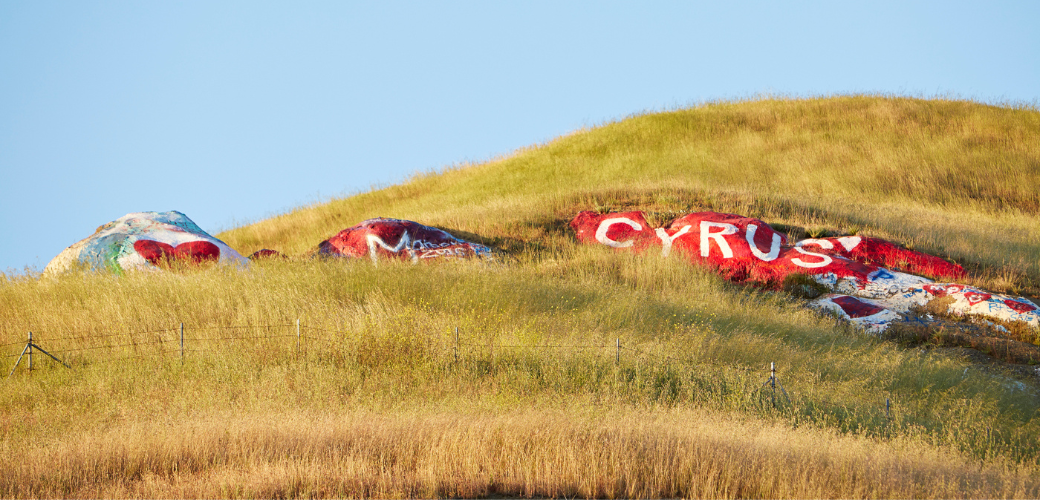 Betty Jane, please shave your legs!
Someone—perhaps someone reading this right now—knows the answer. When and what was the first message painted on Painted Rock? According to the book, Images of America: Moraga, a plea to a girl named Betty Jane was painted in the 1970s. This is the first verified message known to us at JMLT. Was this directed to a particular Betty Jane at Campolindo High? Or, was it an homage to a popular song on Mad Magazine's vinyl LP released in 1962? Someone out there knows the answer.
The sandstone outcropping above the intersection of Rheem Boulevard and Moraga Road has broadcast countless messages over the years. Exactly when and why it all started remains a local mystery. Passing motorists no doubt have observed that messages bear a striking correlation to the calendar of events at nearby Campolindo High School.
One belief is that an anonymous group of students uses these rocks as an unofficial school bulletin board. Painting the rocks is a tradition that has passed from one class to another for some 40 or 50 years. Is the origin of these messages a closely guarded secret? A fading memory known to a few alumni who aren't talking? One tangible clue is a 1970 Campolindo High School yearbook photo that features …. unpainted rocks.
Many of us remember when slipping a note into someone's school locker constituted "social media." It is reassuring that venturing into the three-dimensional world and placing actual words by hand on an actual object is still a method of communication among today's youth. There are downsides, such as occasional litter and that memorable incident when cows enjoyed a stroll in the streets of Moraga after escaping through a torn fence.
If you know the answer to the mystery of the origin of Painted Rock, or better yet, want to contribute to our growing album of photos of the boulders, email us!